Vasconcella (before carica) quercifolia
POPULAR NAMES: Iaracatiá, Mamaozinho do mato, Dwarf Forest Papaya
Caricaceae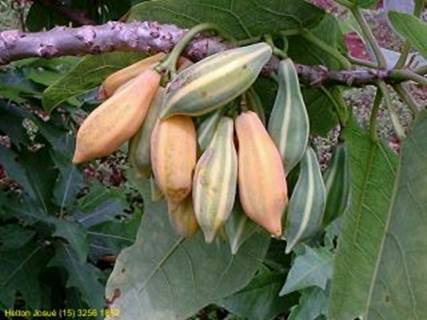 INDIGENOUS NAME: Iaracatiá, comes from the Guarani and means "Pau of make sweet."
Origin: Forests of altitude of Atlantic Forest, from Minas Gerais to Rio Grande do Sul, Argentina, Paraguay and the Andes.
Characteristics: It is a shrub of 2 to 7 m (6 2/3 to 20 1/3 feet) of height, with thick, massive and soft trunk , marked by the scars of fallen leaves. The leaves are large and well cut, and the scientific name quercifolia indicates that the leaves are like those of a exotic tree Quercus. The plant is dioecious, with male and female separated.
Planted in the site of Frutas Raras: October 2002, bloomed for the first time in 2003, bear fruit in 2004.
Tips for cultivation: Plant of rapid growth, appreciates deep soils rich in organic matter, resistant to low temperatures (to -3°C (27°F)), grows from sea level up to altitudes of 2,000 m (6,667 feet). Since there are male(unproductive) and female (productive), you should grow at least 3 individuals.
Propagation: The seeds are small and germinate in 30 to 40 days under shaded environment and 50% of them fall into dormancy and do germinate only at the end of spring. The seedlings grow rapidly and begin to bear fruit in the age of 2 years.
Planting: 5 x 5 m (16 2/3 x 16 2/3 feet) of space between trees, grows well in full sun and in shaded woods. The holes must contain 40% organic matter and neutral pH, achieved with the incorporation of 3 kg of lime per hole, 2 months before planting.
Cultivating: The plant requires no pruning.The fertilization with organic compost is sufficient, can be (6 liters) poultry litter or organic compost + 50 grams of NPK 10-10-10 distributed in the circles 50 cm from the trunk.
Uses: The sweet fruit, remembers the taste of papaya, can be eaten all with shell, but eat small amounts because of the laxative effect. Can also be used to make juices and sweets. The trunk is used to make a sweet similar to cocada.
Flowering in the site of Frutas Raras: October to February.
Fruiting in the site of Frutas Raras: January to April.
LEARN MORE ABOUT THE CLASSIFICATION, ORIGIN, HISTORY, STATEMENT OF PLAN, CULTURAL PRACTICES, MEDICINAL PROPERTIES IN THE PORTUGUESE LANGUAGE
BUY THE BOOK "COLECIONANDO FRUTAS"
Back to the seedlist (English) or back to Caricaceae (Portuguese)